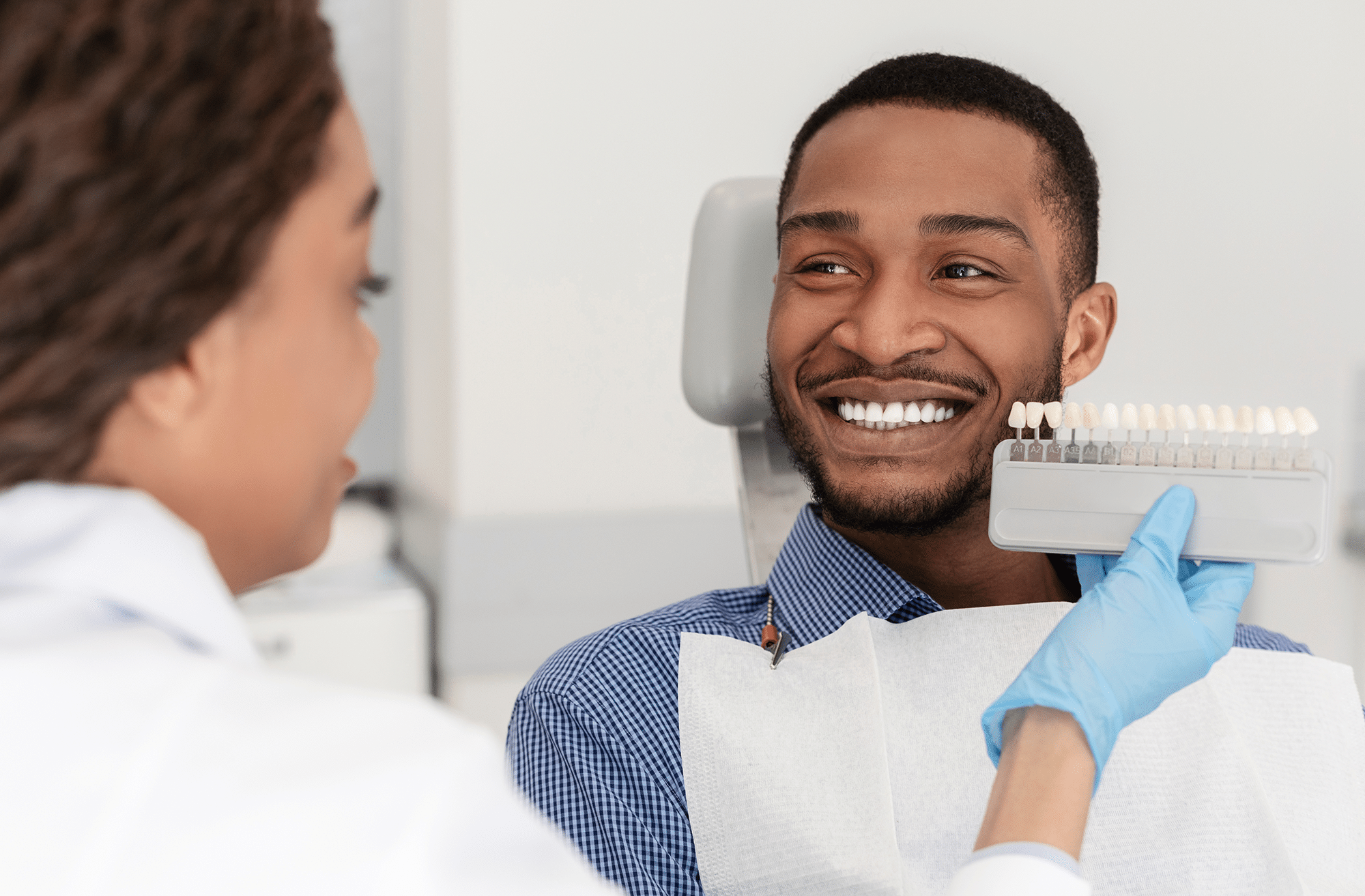 Dental Veneers in Auburn, California
Enhance your dental appearance with dental veneers from Dr. Matthew Harris at Lake of the Pines Dental in Auburn, California. Dr. Harris can make your teeth appear straighter, more prominent, and whiter with dental veneers. Learn more about dental veneers in Auburn, CA. 
What are Dental Veneers?
Dental veneers are a cosmetic dentistry procedure performed at Lake of the Pines Dental. Dental veneers are shaped like shells and fit over the top of your teeth. They come in all different sizes, shapes, and shades. Dental veneers are made out of porcelain or composite resin. 
Porcelain veneers are durable and stain-resistant, while composite resin veneers are more affordable and require less pre-work to place. When you have your consultation appointment, Dr. Harris will work with you to help you identify your dental veneer goals. He will create the perfect dental veneers for you with these goals in mind. 
How are Dental Veneers Placed?
As mentioned above, Dr. Harris will choose and craft your dental veneers based on your goals. Then, Dr. Harris will take an impression of your teeth. We will send the image to a lab where they will craft your dental veneers. Once the dental veneers arrive at Lake of the Pines Dental, Dr. Harris will invite you back for a fitting. Dr. Harris will ensure that the veneers fit well. If we need to make small changes, Dr. Harris will do them chairside. Next, Dr. Harris will prepare your tooth. The preparation process is different depending on the type of dental veneer you choose. Finally, Dr. Harris will attach a bonding material to your tooth and bond the veneer to the tooth. 
What Should I Do Before I Get Dental Veneers?
Many patients want to know how to prepare for their upcoming dental veneer placement:
We only recommend cosmetic dentistry treatments to patients with healthy teeth and gums. Before your dental veneer appointment, Dr. Harris will examine your teeth and look for any dental concerns. He will recommend that you repair the dental problems before cosmetic treatment.

It is essential to find out if you are a good candidate for dental veneers. Although dental veneers are durable, they are not recommended for patients that clench/grind their teeth or bite their nails. These actions could damage the veneers.

Ensure that this is the treatment you want.
Once we shape the enamel to place the dental veneer, your dentist cannot remove it. Without your enamel or dental veneer, your tooth could be at risk for sensitivity and decay. Once you have considered these items, you are ready for dental veneers. 
What Should I Expect After Dental Veneers?
Congratulations, you got dental veneers. Getting dental veneers is an exciting new time. Here are a few things to consider after the procedure. First, avoid pressure on the veneers. Although they are strong, they can break when biting your nails, ice, or pens. Secondly, remember to continue your oral health routine. At Lake of the Pines Dental, we recommend that patients brush, floss, and use mouthwash twice a day. Doing this will ensure the health and beauty of your dental veneers. 
Dental veneers can make a remarkable statement. They can brighten, enlarge, and straighten your smile. Many patients at Lake of the Pines Dental have received dental veneers from Dr. Harris, and they love the outcome. Dental veneers are a relatively quick and efficient procedure that can transform your smile. Call our office today for more information about dental veneers or schedule an appointment at Lake of the Pines Dental.